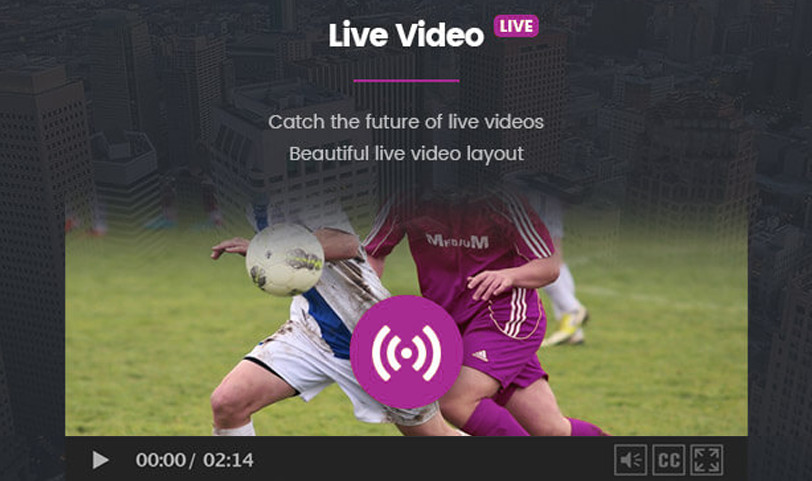 Features web player & video streaming platform
Gain absolute control and manage your videos easily with our self-serve platform!
Thousands of internet project, webmasters, mobile developers and online companies are already using mpvplayer to video traffic, grow business and boost revenue.
Technological capabilities
Modern technologies
Support HTML5 Video & Audio, HLS, DASH, YouTube и Vimeo.
Necessary platforms
Support iOS, Android, Windows, Mac OS, Linux и Smart TV.
Speed ​​and safety
Pure, native JavaScript and frameworks independence (jquery, etc.).
Autonomy
You completely control the created players and download from your domain.
Adaptation
We have thought through all the options so that you can configure the maximum adaptability on all platforms.
Select quality and audio tracks
Set up convenient switching if necessary. Adaptive mode is enabled for HLS and DASH.
Full customization
The most powerful visual designer (over 400 options) does not require programming skills.
Handy playlists
Ample opportunities for creating playlists with the desired design and folders for comfortable navigation.
Important options
Autostart on all platforms, remembering time, picture in picture, social networks and much more.
Subtitles
Subtitle support with a choice of languages ​​and custom design settings right in the player.
Statistics
Powerful built-in statistics system. The ability to connect Google Analytics, Yandex Metric or Mediascope to collect the necessary statistics.
Ready-made templates
You can choose a ready-made skin from a large collection of ready-made video and audio templates.
VAST / VPAY / Overroll
You can connect the video ads of the most popular advertising video networks, regardless of the technological format for displaying ads.
Pre-roll / mid-roll / post-roll
You can configure the display of video ads before, after or in the middle of the video.
In-video banner
Customize text and image ads inside the video player.
Device targeting
Target mobile, tablet and desktop devices via operating systems.
GEO targeting
Serve ads for specific countries, states, cities or DMA regions.
Smart rotation
Configure the rotation of ad impressions based on the cost of impressions, ads video viewing, or make an exclusion list.
Please fill in all fields
Magna Pars Internet Technologies LTD
25 Martiou, 27 1st floor, Flat/office 106, Egkomi, Nicosia, 2408, Cyprus
Contact Phone
+357 25028805
Working Hours
10:00 - 16:00